Sustainability
Are there forms of science that are more usable for the political process and social development than others? And if so, what do they look like and what value is attached to new knowledge?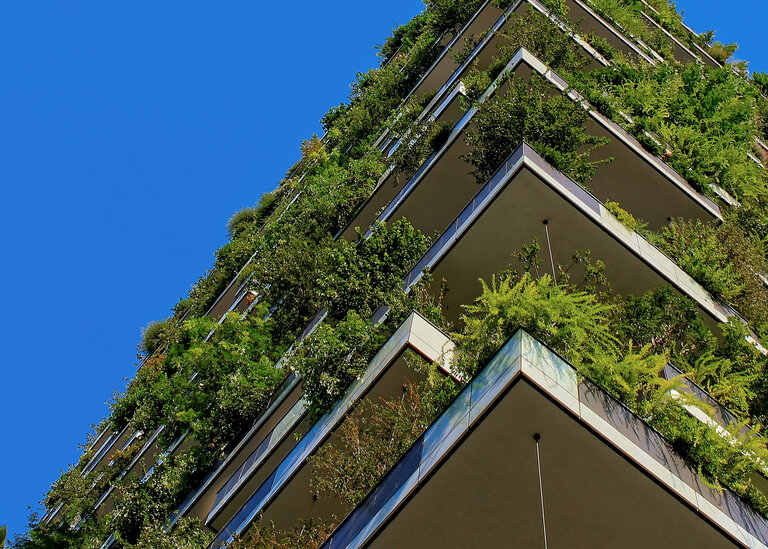 Scientists are activists in initiatives such as Scientists for Future and are thus part of the global climate and sustainability movement. At the same time, they inform and advise politicians and the public as experts. The Research Group Sustainability critically and constructively examines sustainability concepts and discourses and investigates what role science has taken, can take and should take in dealing with environmental crises.
From a self-reflexive perspective, we ask: are there forms of science that are more usable for the political process and social development than others? And if so, what do these look like and what value is attached to new knowledge? Another focus of the WG is to apply the sustainability indicators that scientists use to measure environmental sustainability (for example, to evaluate certain technologies or policies) to scientific practice. By uncovering potential improvements for the science system in this way, the WG aims to contribute to making science itself more ecologically sustainable. Last but not least, the WG discusses which historical models and utopias of human-environment relations are instructive for current options for action, for example with reference to the debates on "geoengineering".
The Research Group Sustainability works together with the project KlimaLectures. It is also in close dialogue with the Research Group Engaged Science.
2023
Workshop "Bridging the Gap"
In this workshop on October 7, 2023 organised by the Research Group Sustainability, the members Anna Cord, Linus Mattauch, Hermine Mitter and Leonie Wenz discuss with political decision-makers which research on environmental policy and sustainability is so policy-relevant that it is used in the everyday work of institutions. The Research Group is thus attempting to approach the question of where science has actually influenced environmental policy decisions, either currently or in the past.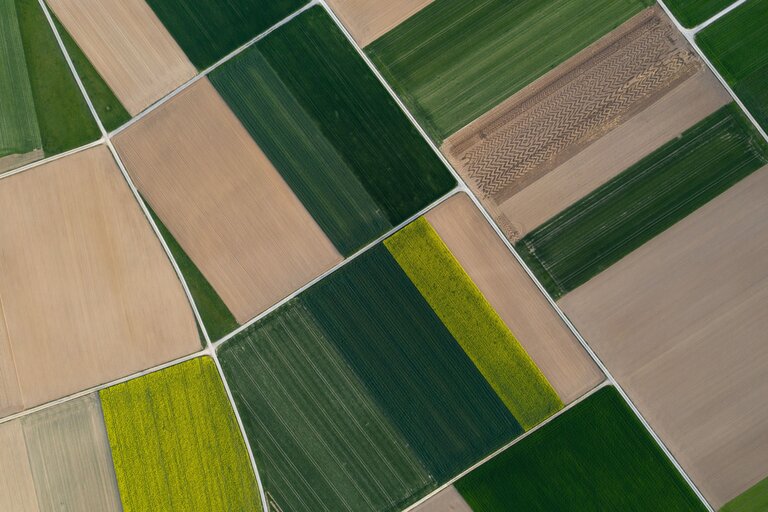 2023
The Future of Food in Europe: Interdisciplinary Perspectives
War, climate change and species extinction pose massive challenges - to absolutely vital aspects: For the supply of food to the world's population. This threat has become tangible for large parts of the population at the latest since the supply chains were interrupted or restricted by the pandemic and the Russian war of aggression. Added to this - as a result of climate change - are extreme weather events such as heat waves, droughts and floods. In many places, agricultural production yields are collapsing. If the stable economic and social fabric is already tottering today, what instabilities do we have to fear for the future?
Under the title "The Future of Food in Europe: Interdisciplinary Perspectives", an interdisciplinary team of authors of the Research Group "Sustainability" discusses this question. The paper is partly based on the activities of some members of Die Junge Akademie at the Salon Sophie Charlotte of the Berlin-Brandenburg Academy of Sciences and Humanities on May 21, 2022.
Click here for the debate contribution.
Click here for the press release.
2020
Statement "Proposal for promoting sustainability in academia through the reduction of travel"
A significant part of the carbon budget of scientific and scholarly work is used up by CO2 emitted due to travel. In their statement, the members of Die Junge Akademie call for a new approach to the subject of travel. They give concrete examples and outlooks for reducing CO2 emissions in the area of travel activities and encourage the expansion and improvement of online communication. They want to counter reservations about online conferences, workshops and seminars and offer concrete application examples and experience reports for online formats. The proposals of Die Junge Akademie are aimed at individual academics, funders, conference organisers, universities and research institutions. In a short outlook, the participating members highlight that a change in travel culture also represents a major opportunity to achieve greater diversity.
It is important to realise that even a small change in behaviour is better than no change at all - perfectionism can be counterproductive to valuable attempts. The collection of examples will be expanded at irregular intervals. Interested parties are invited to contribute their experiences.
Click here for the complete statement (in English).
Click here for the press release (in German).
2019/2020
Online Competition "visions / solutions for a sustainable tomorrow"
As part of the Visions/Solutions ideas competition, the Sustainability Research Group at Die Junge Akademie accepted entries that engaged with visionary ideas or concrete approaches to a sustainable future. Participants had until 15 May 2020 to submit entries in the categories of Visions or Solutions in a broad range of digital formats – from images and videos to texts and songs to multimedia content. Prizes in the amount of 2,000, 1,500 and 1,000 euros were awarded to the three best entries in each category.
Die Junge Akademie celebrated its 20th anniversary in 2020 and the competition, which received support from the UmweltBank AG for the Solutions category, represents a continuation of its engagement in developing innovative formats for transferring knowledge.
Detailed information on all of the prize winners and their ideas can be found at www.2020.diejungeakademie.de/en or below.
An overview of the prize winners:
Visions category
place: My Hero (Aneta Zeleznikova)
place: The Bark Project (Johanna Hehemeyer-Cürten and Charlett Wenig)
place: Mach deine Vision zu deiner Zukunft (Team Creactive)
Solutions category
place: Virtual Planet (Sabina Keller)
place: Dungse
place: SunCrafter
Special prizes
In response to the flood of outstanding submissions, the jury made the decision to award an additional special prize of 250 euros in each of the categories.
Visions category special prize: Corontäne (Maira Kellers et al.)
Solutions category special prize: Environmental club at Martin-Luther-Europaschule
2019
Statement "Refund real travel costs!"
Scientists are engaged in a field of tension between global personal exchange regarding research in science and the ecological sustainability of travel. This conflict presents itself consistently alongside a commitment to research and collaboration at Die Junge Akademie. Against this background, the Research Rroup on Sustainability has initiated a statement in which the members of Die Junge Akademie demand binding regulations for the interpretation of the budget and grant law in order to make it possible to offset CO2 emissions on each business trip and to reimburse the costs incurred. These steps are necessary, as there are so far no equally valid regulations for employees of the public service, on a federal or regional level, to which a compensation for business trips from their respective budgets would be possible. The higher price for business trips alone, due to the CO2 compensation, would lead to long journeys becoming more expensive and thus also less frequent.
Click here for the complete statement (in English).
Click here for the press release (in German).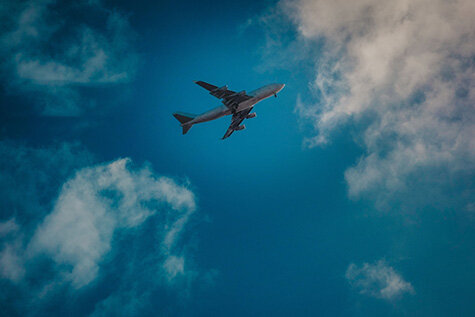 2019
Statement #Fridaysforfuture
The RG Sustainability of Die Junge Akademie supports the protests of #FridaysForFuture. The warnings about climate change and its consequences for humans and the environment are based on scientific research.Therefore, we strongly support the protest of #FridaysForFuture on September 20 and call on the political actors to limit global warming with an ambitious and holistic climate policy.
Further information on the protests can be found here.
2016
Denaturalizing Climate Change
In the context of the Mexican-German Year of Science and Technology, Die Junge Akademie together with CIESAS Centro de Investigaciones y Estudios Superiores en Antropología Social and artec Sustainability Research Center and the University of Bremen, are facilitating a workshop to develop de-colonizing and re-politicizing perspectives on climate change adaptation.
The workshop "Denaturalizing Climate Change" de-centers Western perspectives and brings together critical viewpoints from social research. The workshop took place 28-30 September 2016.
2012
Exhibit "Using Energy Sustainably" on the MS Wissenschaft
In this joint project, realised by the research group Sustainability, the University of Greifswald and wind power plant producer Enercon backed the interactive exhibit "Using Energy Sustainably", which, within the scope of the 2012 edition of the Science Year (run by the Federal Ministry of Education and Research) and MS Wissenschaft, toured through Germany and Austria. The software application which formed the basis for the exhibit is now freely available at www.energie-nachhaltig-nutzen.de until further notice. The application takes the form of an educational game dealing with the opportunities and boundaries which accompany a sustainable approach to energy. More specifically, it looks at how carbon dioxide emissions and energy consumption can be reduced in a house, at a university or within a city. What effect do energy-saving light bulbs have on household carbon dioxide emissions? What if you use environmentally friendly electricity? How do the savings delivered by each of these measures stack up against each other – i.e. which measures are the most worthwhile? In the case of a university, should environmental managers with a limited green initiatives budget favour the introduction of organic canteen food, the modernisation of heating systems or a "recycled only" approach to paper procurement?
Exhibit "Using Energy Sustainably": report and photos
Science Year 2012 (German)
Application webpage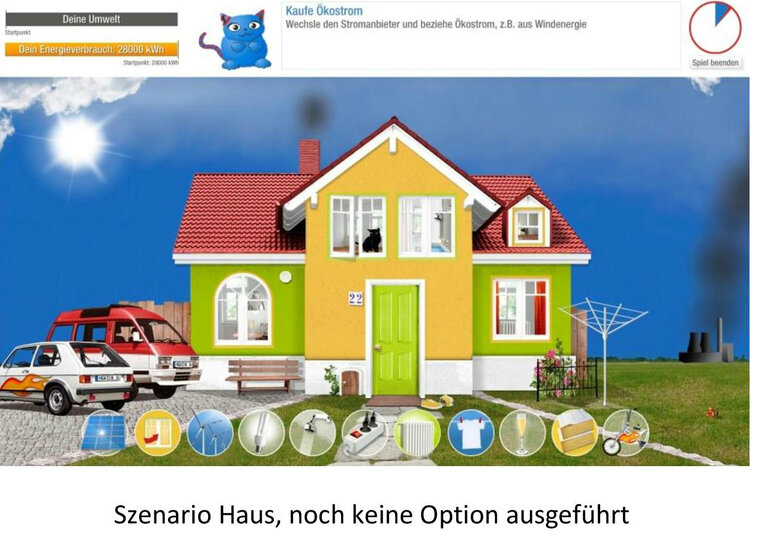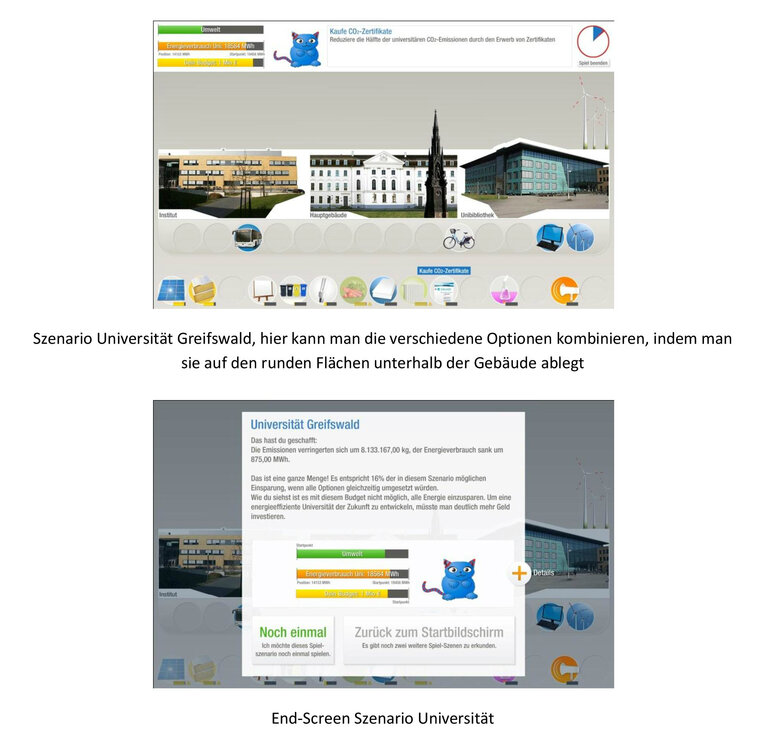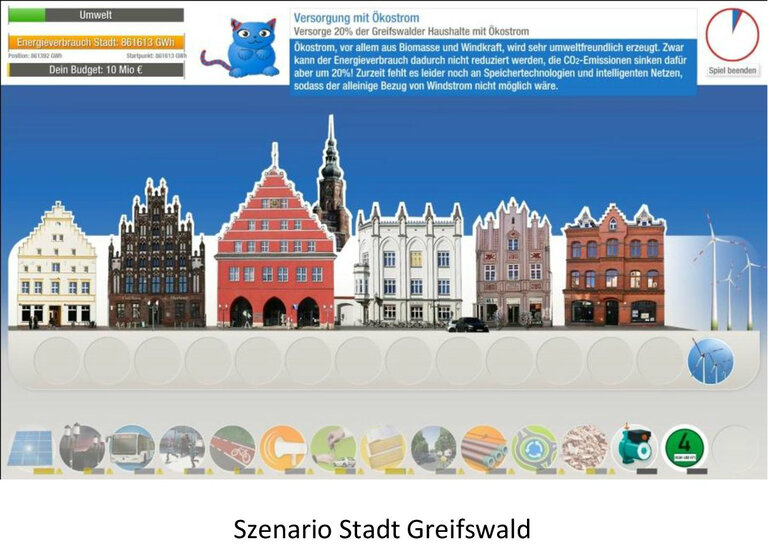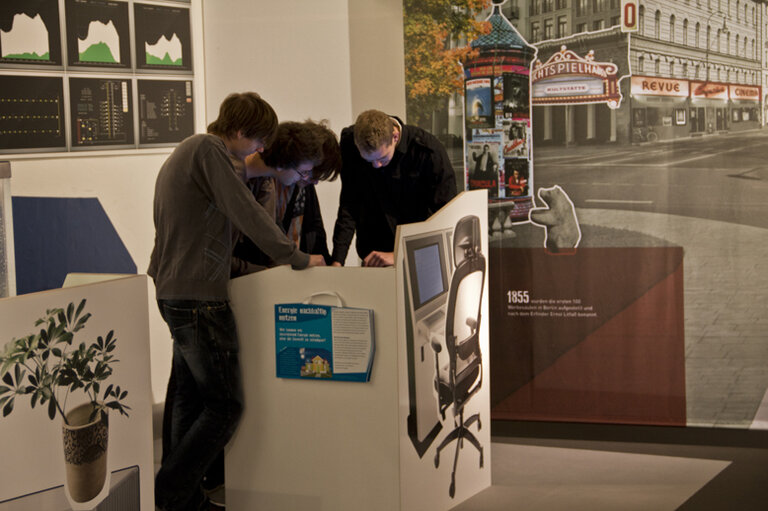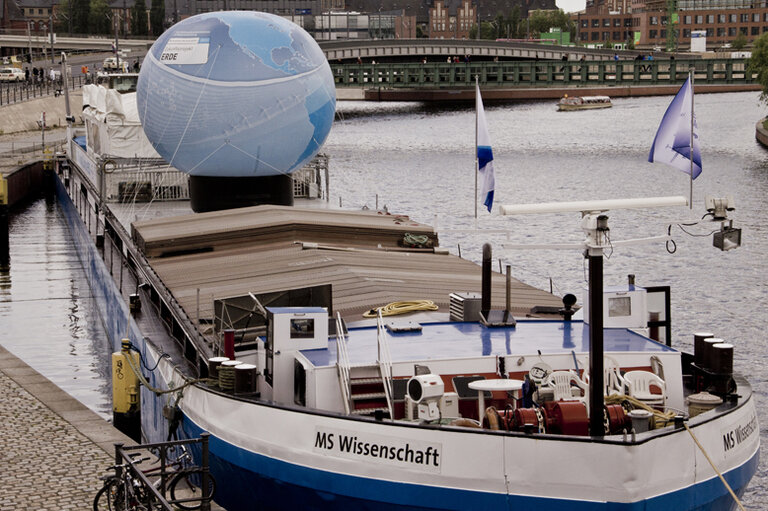 2012
E-Paper "Sustainable University"
What is the relationship of sustainability and knowledge, what role can universities take on with the transformation into a sustainable society operating sustainably?
As early as 1999, the environmental ethicist Konrad Ott questioned whether or not the concept of sustainability can also be applied to knowledge. This is one of a number of issues dealt with in our e-paper "Ideas for Tomorrow's Sustainable University": What role can universities play in moving towards a society which thinks and acts sustainably?
Spin-offs have already been transforming research results into sustainable products and services for many years, but what is the influence of processes developed in this area of research on new teaching and learning methods? Not least, we also seek to adopt an internal perspective: how do organisations, students, and employees handle their own resources? The e-paper aims not only to answer the aforementioned questions, but also to give impetus to new questions. In addition, it details our presentation of selected ideas taken from the "UniGestalten" competition – which range from an innovative "Global Congress for Sustainability" to a "Public Welfare Balance Sheet for Universities".
Activities
The Sustainability Research Group is organising a workshop on the influence of research about environmental policy and sustainability on environmental policy decisions.

Topics:

Starts on

07.10.23

Ends on

07.10.23

Event access: Internal

Berlin

Publication of a contribution to the debate on the food transition

Topics:

date

23.02.23

Members of Die Junge Akademie's Research Group "Sustainability" have published a contribution to the debate on the food transition. Titled "Die Zukunft der Ernährung in Europa: Interdisziplinäre Perspektiven" [The Future of Food in Europe: Interdisciplinary Perspectives], the team of authors examines what it considers to be necessary changes in the agrifood system.

Topics:

Berlin 2023

Weniger Emissionen von klugen Köpfen . Von Valerie Domcke und Astrid Eichhorn

Topics:

date

31.03.22

Die Junge Akademie veröffentlicht Stellungnahme "Vorschläge für einen nachhaltigeren Wissenschaftsbetrieb durch Reduzierung der Reisetätigkeit".

Topics:

date

28.10.20

Honouring visionary ideas for a sustainable future

Topics:

date

04.08.20

"Visions / Solutions" online competition run by Die Junge Akademie's Sustainability research group seeks entries for a positive future by 31/03/2020 | Up to 2,000 euros to be won

Topics:

date

09.12.19

Neue Mitglieder sind immer herzlich willkommen in der AG Nachhaltigkeit. Die Sprecherin der AG Kristina Musholt stellt vergangene Projekte vor und skizziert neue Vorhaben.

Topics:

date

29.06.18

The Research Group 'Sustainability' has decided to focus more on the topic of food and agricultural practices.

Topics:

2016