Popular Culture(s)
What is popular culture? (How) does it differ from modern mass culture, pre-modern folk culture, and the culture of daily life? And what about the distinction between popular and élite culture(s)? What makes a cultural object popular? How is cultural popularity defined and what is it based on?
What is popular culture? (How) does it differ from modern mass culture, pre-modern folk culture, and the culture of daily life? And what about the distinction between popular and élite culture(s)? What makes a cultural object popular? How is cultural popularity defined and what is it based on? Is it the culture of the "lower class(es)" as opposed to a supposedly representative élite culture monopolized by the ruling class, which may even be subverted by the former as a kind of subculture? In fact, the antithesis between popular "folk culture" and a bourgeois "high culture" ascribed to the élite, which frequently implies a presumption of mutual exclusiveness, can hardly be maintained, neither for the past nor for the present. Such labels are often assigned as a result of a conscious effort on the part of a self-confident intellectual "élite" to distinguish itself. The popular component of culture is rather more complex, and the boundaries between "popular" und "élite" elements are blurred.
The research group Popular Culture(s) deals with historical and contemporary expressions of popular and folk culture from an interdisciplinary perspective. Transcending disciplinary boundaries and fostering networking and collaboration on the research topic of "popular culture", it seeks to develop a new approach to the subject as well as expand and refine theories on popular culture.
Above all, we are interested in the interrelationship between elements defined as popular and non-popular in culture, language, literature, music and art, as well as in science and society. Popular and erudite speech, colloquial and standard language, electronic and pop music, popular fiction and literary classics, academic research and popular science are suitable examples. Who are the agents and recipients of popular culture? What are the representative functions and effects of popularity? What messages, cultural identities, values, ideas and ideologies are expressed, understood, and shaped? How does popular culture affect social interaction? What are the intellectual discourses, the political concepts, and the structures of social power and hegemony behind the contingent construction of certain texts, objects, or activities considered to be popular?
19.08.-21.08.2022
Workshop "Schräge Vormoderne Herrscher in (Post-)Moderner Rezeption
Under the working title "Schräge Vormoderne Herrscher in (Post-)Moderner Rezeption" ("Weird rulers of the pre-modern era in (post-)modern reception"), the Popular Culture(s) research group is looking at the fascinating figure of the Roman emperor Elagabal in correlation to contemporary actors. Among other things, it is planning a multimedia exhibition. A first internal workshop on the project will take place in Berlin from 19-20 August 2022.
17.09.2021
Workshop "Theory in Literature"
On September 17 and 18, 2021, the workshop "Theory in Literature" took place at the Berlin-Brandenburg Academy of Sciences. It was organized by Michael Bies and Erik Schilling within the framework of the working group "Popular Culture(s)". It It was a follow-up to a workshop on "Theory Formation in the Signs of Literature and Art" held in Hamburg in 2019. In addition to current and former members of the Junge Akademie, other literary scholars and comparatists participated.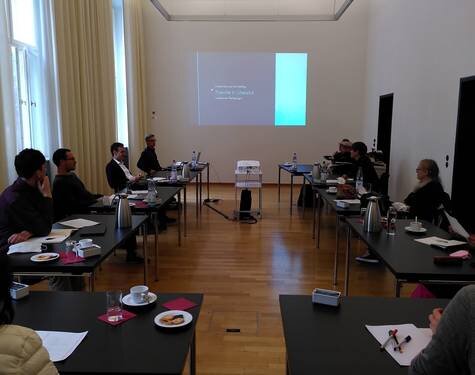 The workshop looked at texts from the second half of the 20th century that reflect on theory and, in doing so, continue to think in literary terms. In literary studies, the second half of the 20th century in particular is characterized by lively discussions of theory. Hermeneutics and structuralism, discourse analysis and deconstruction, gender theory and postcolonial literary studies argue about whether and how (literary) texts should be interpreted 'correctly'. In various case studies, the workshop participants analyzed the phenomenon of 'theory in the literary text' and examined which commonalities and differences can be identified in the respective approaches to theory. In addition, they considered how theory is itself contoured in literary representation.
20.02.2020
Cha(lle)nging Perspectives #1 Harald Schmidt
Whether it is sustainability, art, debate or artificial intelligence – all the big, important topics will be in the spotlight in the anniversary year of 2020. In the "Challenging Perspectives" lecture and discussion series, six research groups of Die Junge Akademie are presenting one evening each at the Heimathafen Neukölln in Berlin. Together with renowned guests from the sciences, arts and the public sphere, members will discuss current scientific and other major social topics. It is also about giving critical perspectives a voice in order to provoke interesting changes of perspective. The audience is invited to join in the discussion and develop new perspectives on much debated topics.
On Thursday, Feb 20, 2020, Harald Schmidt will be the guest of our Research Group "Popular Culture(s)".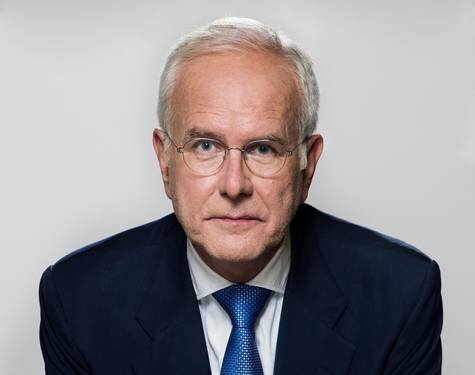 Harald Schmidt / Photo: Björn Klein
As an actor, entertainer, cabaret artist and columnist, Harald Schmidt expertly explores the possibilities of television, cabaret and theatre, from seriousness to entertainment and from 'high culture' to 'low culture' - changing the perspective on what popular culture is and can be.
Reason enough then for Die Junge Akademie's "Popular Culture(s)" research group to invite Harald Schmidt to discuss the topics of the evening. What actually is – or was – television? How is satire possible in (un)serious times? What is popular culture anyway? And finally: What can science learn from popular culture? These and other questions will be discussed by Harald Schmidt together with Islamic Studies scholar Simon Wolfgang Fuchs, historian Valeska Huber and ancient historian Christoph Lundgreen. The evening will be hosted by literary scholar and speaker of the research group, Michael Bies.
Admission is free, ticket required.
Tickets via eventbrite: challenging-perspectives-harald-schmidt-eventbrite.de
Date
Thursday, 20.02.2020
Doors open: 18:30 Uhr
Start: 19 Uhr
Venue
Heimathafen Neukölln
Karl-Marx-Str. 141
12043 Berlin
More information: 2020.diejungeakademie.de/challenging-perspectives
07./08.02.2020
Workshop "Utopian Media"
Die AG Populärkultur(en) veranstaltet am 7. und 8. Februar 2020 an der Universität Basel einen Workshop zum Thema "Utopische Medien". Verantwortlich für den Workshop ist der Literaturwissenschaftler Caspar Battegay.
Das vollständige Programm ist hier zu finden.
The Research Group "Popular Culture(s)" is holding a workshop on "Utopian Media" at the University of Basel on 7 and 8 February 2020. The literary scholar Caspar Battegay is responsible for the workshop.
The complete programme can be found here (in German).
23.01.2020
Diejungeakademie@Literaturhausleipzig
The Research Group Popular Culture(s), together with the Literaturhaus Leipzig e.V., organized the kick off event for the series "diejungeakademie@" as part of the 20th anniversary of Die Junge Akademie in 2020.
Four researchers, and members of Die Junge Akademie placed the form of Antigone against the backdrop of political events and cultural trends in society, and, from a historical, philological, literary, and philosophical standpoint, asked the question: How is she still relevant today? Excerpts were read aloud from Friedrich Hölderlins translation of Antigone (1804): reviled as they were written, to this day controversial, but powerfully spoken and now used more and more.
Picture: Antigone au chevet de Polynice (Jean-Joseph Benjamin-Constant). Photothèque Musée des Augustins, photo: Daniel Martin. Wikimedia Commons.
The myth of Antigone, who buried her dead brother despite a prohibition, still resonates today – whether as a loving sister, a figure of defiance, a symbol of feministic ideals, or as a reference point for questions of law and order. Such links to current issues can be seen particularly clear in the version from Greek poet Sophokles, in which a seemingly simple plot evokes a diversity of opposites that links the piece to the modern relationship between women and men, living and the dead, society and the individual, and the state and family. Equally diverse are the debates that take place between different receptions of the literature and within various scientific fields.
Hölderlin-introduction and reading: Erik Schilling (LMU München)
Members of the podium: Michael Bies (FU Berlin), Eva Buddeberg (Universität Frankfurt), Christoph Lundgreen (Università di Pisa)
The event was sponsored by the Cultural Foundation of the Free State of Saxony Kulturstiftung des Freistaates Sachsen and the Cultural Office of the City of Leipzig.
2019
Workshop "The birth of theory out of literature and art"
On 12-13 October 2019, the Junge Akademie working group "Popular Culture(s)" met in Hamburg for a workshop on "The Birth of Theory out of Literature and Art", organised and led by Michael Bies (FU Berlin) and Sebastian Matzner (King's College London).
The workshop took its cue from the observation that influential theoretical works in the humanities but also in disciplines further afield, frequently engage with a relatively small number of literary texts and images as "touch stone" works for the theorisation that is undertaken. Examples include the role of Sophocles' Oedipus the King for Freudian psychoanalytical theory, Derrida and Lacan's work with Edgar Allen Poe's The Purloined Letter, or recurrent engagements with Thucydides' Peloponnesian War in theories of international relations.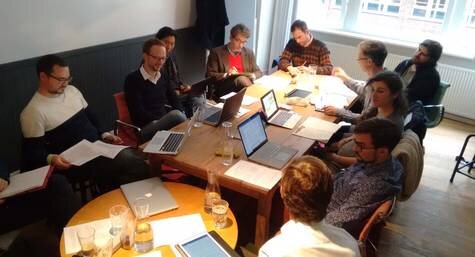 The workshop consisted of a series of brief presentations by members of the working group that examined case studies for instances, where theories were developed by way of close engagement with works of literature and art, followed by a collective analysis of Herman Melville's short story "Bartleby the Scrivener" in the light of a range of theoretical positions developed on the basis of a critical dialogue with this text. The discussions that followed the presentations centred on the questions: which characteristics of literary and visual works of art are central for their appeal to theoretical enquiry; how do such works of art give an impulse for theoretical reflections, and how are they themselves (and/or interpretations of them) affected in the process and as a consequence of such theorisation; and, how do such texts or images shape or seem to presuppose often vastly different and sometimes mutually exclusive theoretical positions?
After two days of lively, focused, and fruitful discussion, which not only pondered the relationship between theorisation and the works that incite theorisation, but also repeatedly turned to interrogating fundamental differentiations of critical categories and practices (such as between "theory", "method", "interpretation", and "approach"), the working group now considers holding a follow-up workshop, which would concentrate on elucidating the various different roles and functions of literary and visual works of art in theoretical texts and debates.
2018
Workshop "Eaten? Food and memory..."

On 16 and 17 April 2018, the AG Popular Culture(s) hosted a workshop on the topic "Eaten? Food and Memory in the Literatures of the World". The articles were published by Neofelis in October 2019.