Ambivalenzen in der Wissenschaft: Kalender 2014
Calendar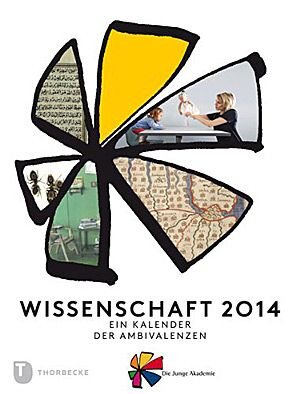 Wenn sich WissenschaftlerInnen in Laboren, Archiven oder auch den eigenen vier Wänden der Forschung widmen, tauchen sie in Welten ein, die Außenstehenden oft fremd und unzugänglich erscheinen. Was fasziniert an der Wissenschaft und wie lässt sich diese Faszination bildlich darstellen?
In 53 Bildern bieten WissenschaftlerInnen aus Deutschland, den Niederlanden, Russland, Schottland und Schweden Einblicke in ihre jeweiligen Forschungen, in ihre Arbeitsweisen, -themen und -orte. Entstanden sind dabei außergewöhnliche Bilder, die faszinieren – und etwas von der Faszination Wissenschaft vermitteln.
Die Bilder dieses Kalenders wurden aus den Einsendungen zum internationalen Fotowettbewerb "Visions and Images of Fascination" (www.imagesoffascination.net) ausgewählt.
Sibylle Baumbach (Hr.): Faszination Wissenschaft 2016. Visions and Images of Fascination, Ostfildern: Jan Thorbecke Verlag 2015. Wochenkalender mit durchgehend farbigen Abbildungen, Spiralbindung.