Towards Climate Sustainability – Taking the Academic System from Evidence to Action
Blog
Academic institutions have long played a key role in providing evidence on the climate crisis as well as potential mitigation strategies. But what is the academic system itself doing with this evidence? Is the academic system walking the sustainability talk fast enough?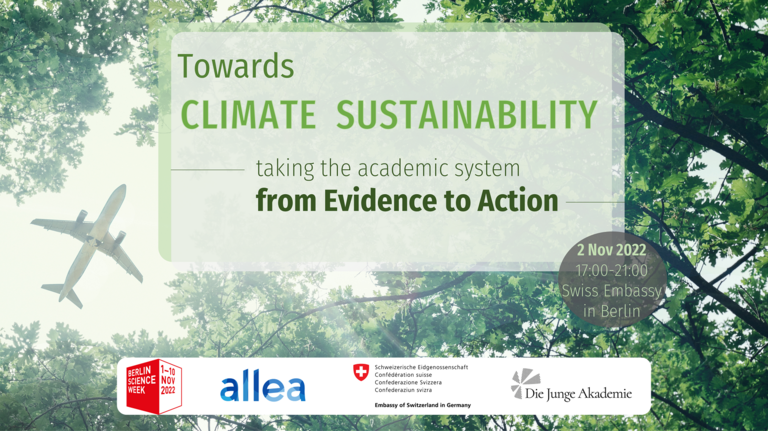 Every sector of society needs to rethink their current operational models if we are to limit global warming to 1.5°C as stipulated in the Paris Agreement. This also includes the academic system. ALLEA's latest report Towards Climate Sustainability of the Academic System in Europe and beyond presents data that suggests that many sectors within the academic system far exceed the yearly emission levels required to remain under 1.5°C of global warming.
While some stakeholders have begun to engage with the issue of their greenhouse gas (GHG) emissions and are implementing first steps to track, disclose and reduce them, there are still many widespread behaviours embedded in the academic system that contribute to the degradation of the climate. How can we change these practices without sacrificing research excellence or diminishing international collaboration in the process? What are the lessons learned from the Covid-19 pandemic in terms of positive ways to restructure the internal operations of academia? What best practices are already being implemented, and how can these be transferred to other academic sectors?
ALLEA, the Swiss Embassy in Berlin and the Die Junge Akademie are partnering to address these and other important questions at our upcoming event 'Towards Climate Sustainability – Taking the Academic System from Evidence to Action' on 2 November 2022. This event will present some of the major findings from ALLEA's report and will feature representatives from key stakeholder groups within the academic system who will present the programmes and strategies they have developed to embed sustainable practices in their operations and reduce the levels of emissions within their sectors. Registration for in-person and online attendance is available here.
This event will take place in the context of 2022 Berlin Science Week. The theme of this year's international science festival is 'Paradigm Shift. Co-Creating a Sustainable Now!' where science-driven organisations from Europe and beyond will hold several events, exhibitions, and interventions to evoke discussions and encourage inspiring alternatives to steer the world towards a more sustainable path.